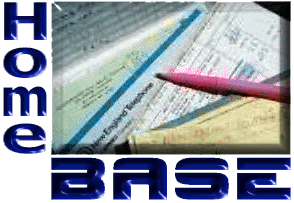 Welcome to The De Lorenzo Group HomeBASE Page!
Thanks for visiting!
Hello, My name is John De Lorenzo. I am actively engaged in the Communications and Computer Systems business. I am an independent, authorized agent for Bell Atlantic and a systems consultant. Originally, I started with building hardware and software application package software. This evolved to include Windows NT networks, Exchange Server and Outlook98 email, web sites, e-commerce and business office communications. I hope you will take the time to "look me over". I sincerely hope we can begin a life-long, business relationship.
Sign My Guestbook
View My Guestbook

John De Lorenzo and The De Lorenzo Group Join BIRNS Telecommunications, Inc. So Visit BIRNS Now ( This link takes you right to the BIRNS website. We'll be expanding our website to include more information.)
See John De Lorenzo on TV - Special Edition News


You need the Realaudio Player to play the video. So Download Now ( This link takes you right to the download spot. It should take only 5 minutes to download and install.)
See John De Lorenzo's Resume Online
Download HomeBASE Programs!

Shop in Our HomeMADE Computer Store
Our affiliates allow you to view and purchase the items you want thru us! We hope you'll consider us when shopping online. Thank you! So

Just Click Here to Visit Barnes and Noble Now

Just Click Here to Visit Amazon Now
Just Click Here to Visit CDNOW Now









---

Consulting

Looking for results, but you think you might need some help? If so, this is the place for you!
Applications
Business and Accounting The De Lorenzo Group HomeBASE. We offer package and custom software for the personal computer (DOS and Windows) Our premier product is The HomeBASE application suite. The De Lorenzo Group HomeBASE is available for download. Just visit the download area (Applications) and download HomeBASE.exe. This item is a self-extracting setup program which will allow you to setup one or more of the applications

Click here to download a specification sheet on HomeBASE (in HTM format).

Support
John De Lorenzo Offers the best of the breed -- ability and experience. We're there for what you need, e.g., hardware, software, service and more!
Education
The Approach -- needs to be fulfilled, skills to be developed. Our focus is on what you need to do and your ability, rather than just the standard textbook approach.
Why?
"What's all the fuss about?" "What's so great about HomeBASE?" "Is HomeBASE an appropriate relational database for running enterprise software?" "Will it connect to our server?" "Is HomeBASE for real?" "What's a HomeBASE?" "Who is John De Lorenzo?" "Shouldn't I prefer a big company like Microsoft or Borland or Sybase?" Get the answers to these questions and more...
Send your request to Delgroup1@aol.com
An Evaluation Edition of HomeBASE is available on CD-ROM. Its only limit is the 30 day try me/buy me evaluation period.

---

John De Lorenzo
311 East 37th Street.
New York, NY 10016
(212) 213-2357
(212) 684-8137

Copyright © 1998. All rights reserved. Reproduction, in whole or in part in any form or medium without the written permission of John De Lorenzo, is prohibited.
Windows, Windows 95 and Windows NT are trademarks of Microsoft Corp.